Helpful hints and tips on where and how to get Top Speed from each car
The fastest track in the game is generally Spa-Francorchamps. To get the fastest time at Spa, one generally drives backwards down the first main straight. In the image below, the speed run would start just past Turn 8 and continue down the hill towards Eau Rouge (marked Turn 4). Just stay on the gas and run the car straight into the wall.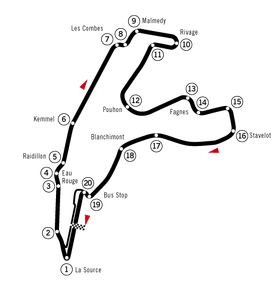 The second fastest track for speed challenges is Mount Panorama. The fastest portion of the track is the final long straight, the Conrod Straight, leading down to the Chase portion of the track. This section is generally 2 or 3 miles per hour slower than the reverse section at Spa, though this depends on driver ability in the particular car.
If neither of these two tracks are available, another track needs to be selected. Below is a list of the fastest tracks in the game.
Spa-Francorchamps (Reverse)
Mount Panorama
LeMans
Daytona
Indianapolis
Monza (section from beginning of Parabolica to first chicane without braking)
Catalunya (from exit of final chicane to first turn)
Dubai (main straightaway)
Other tracks can be used if absolutely necessary, but will not produce top results. These tracks have, as best I can tell, the longest straights in the game.